This is a pseudo-type proposed by Koanic about two years ago to describe a sort of person who doesn't fit neatly into either the Amud or Mousterian categories. Before that I'd proposed a subtype of mousterians that I called "red" mousterians which is now contained in this category. It's also sometimes referred to as "Tex's Amud" because this is the sort of person Texas Arcane refers to as "Amud". My speculations here will be even more based on intuition than usual.
The best example I've found is Gregor Mendel.
A cave bear's distinguishing physiognomy is endomorphic with a high and vertical forehead. The endomorphism distinguishes them from their ectomorphic Amud cousins like Nikola Tesla. Thomas Edison is, IMO, intermediate between Tesla and Mendel.
Later pictures of Edison are extremely similar to Texas Arcane, which gives me some hope that he'll finish Vault-OS eventually after a million revisions or so. (Legend has it that Edison never completed his RPG though.)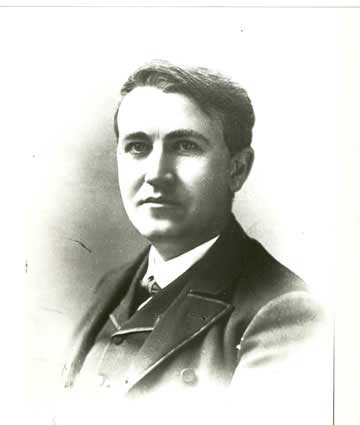 Psychologically, cave bears are interesting. Like owl melons, their typical IQs run very high and they have high testosterone to boot. Like mousterians and melonheads, they are attracted to knowledge—or more precisely, information—for its own sake. Unlike mousterians, cave bears understand that prosody also has semantic value and therefore possess the capacity for nuance. Unlike melonheads, they are inclined to support themselves with their own efforts and are therefore generally unable to capitalize on their social perceptivity.
You can read Tex and Roffschild writing about how the world works and they'll say the exact same things, except that the cave bear despairs of the human condition and the melonhead has a predatory, shit-eating grin on his face. Cave bears quickly acquire a tragicomic attitude toward life which is expressed in their dark, ironic sense of humor. Koanic has described them as "prickly" before—I tend to think this is more due to the hedgehog's dilemma. Cave bears have a debilitating combination of social sensitivity and a tendency to tell the truth, and this means they suffer through a lot of interpersonal rejection and group ostracism. Eventually, they fry their cortisol receptors and, if they've managed to become self-sufficient with their talents, they just stop giving a shit. If they decide you aren't worth their time, they won't even waste time saying goodbye.
They would be "people" people if modern people weren't worthless and horrible; for example, Mendel was recognized by his abbot as a very effective teacher.
Cave bears are both tinkerers and perfectionists, which is not a great combination if you're trying to get something done in particular. On the other hand, this makes them the ultimate inventors.
If you want to find more examples of cave bears, try watching TV shows from the '50s and '60s, they're everywhere.