This ties in with Kensuimo's weird Chinese tonic function theories. As I understand it (not very well), he says that melons have overactive 2nd fire meridians which have to do with reaching and grasping motions and the concomitant psychology of attraction, domination, and predation. So I expect he will be particularly interested in this post.
This line of thought was inspired by a comic relief character in Final Fantasy 9 called Alleyway Jack, whose real name turns out to be Gilgamesh if you follow through on a side quest.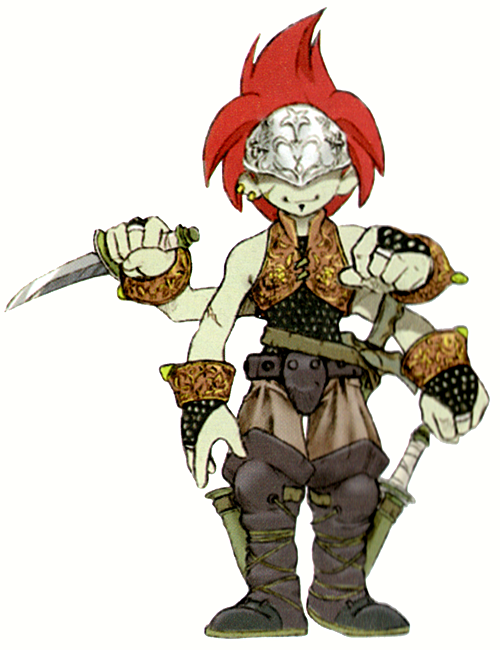 Here's the relevant stuff from his wiki. This sounds like the sort of author insert Lizard King would write.
"Enough expository banter! Now we fight like men! And ladies! And ladies who dress like men! For Gilgamesh…it is morphing time!"
—Gilgamesh, Final Fantasy V

Gilgamesh (ギルガメッシュ, Girugamesshu?) is a recurring character in the Final Fantasy series. Initially introduced as a antagonist, he has made a number of appearances in remakes and later titles. To date, Gilgamesh has had more appearances in any Final Fantasy media than any other character, and may be the only character to appear in more than one game in the main series (see below). Gilgamesh began a tradition of an incompetent, comical, yet persistent recurring boss for the player to face.

Gilgamesh's role has varied greatly from ally, to enemy, to summon, but for most of his appearances he is a traveling sword collector who battles with a variety of rare and powerful weapons. In most, if not all, of his appearances, Gilgamesh is searching for the legendary sword, Excalibur, but often ends up with the imitation known as Excalipoor…

Gilgamesh's appearance has varied subtly in each game, but in all his appearances he has a gray complexion, red/orange armor, and as many as eight arms in which he holds an arsenal of different weapons. Gilgamesh's trademark weapon is a type of polearm known as a naginata, but he also uses rare and powerful swords collected from around the world. He considers himself a master swordsman, but usually ends up running away after being defeated.

Usually, Gilgamesh appears with only two or four of his arms visible; it is only after he "morphs" that he reveals his true form, bearing six or eight arms…

Unlike other recurring characters, like Cid and Biggs and Wedge, Gilgamesh has generally the same appearance and personality in every game he appears in (but not always). As implied in Final Fantasy VIII and confirmed in Dissidia 012 Final Fantasy, this is because the Gilgamesh seen in the series is actually the same person, traveling between worlds via portals in the Rift…

Though he frequently appears to challenge the party and is first featured as a villain, Gilgamesh is not truly evil. In Final Fantasy V he is saddened when he learns of Galuf's fate, and when he is banished to the Interdimensional Rift he almost offers to join the party, and sacrifices himself so the party can defeat Necrophobe. In Final Fantasy VIII he becomes the party's ally, and again is not hostile in Final Fantasy IX (though he attempts to steal gil from the party several times).

Gilgamesh
Final Fantasy Wiki
This got me thinking about other places I've seen this "many arms" trope. The first that comes to mind is that guy from Mortal Kombat, Goro.
Goro is part of the four-armed half-human, half-dragon race, called the Shokan. In the original game he has been champion of the Mortal Kombat tournament for 500 years before being defeated by eventual tournament champion Liu Kang.

Goro
Infogalactic
Turns out the Mortal Kombat lore is pretty heavy on the esoteric stuff, when you start looking at this Shokan race. When you play those games it seems like the creators were just trying to have as much fun as possible, so it's anybody's guess whether any of it is intentional.
Goro is associated with the element of Fire. Like Kintaro, he could either project fireballs either from his mouth or his hands. In Shaolin Monks, he was able to shoot one fireball from each hand. He could also manipulate fire in his hands if he needed to attack using them.

Goro
Mortal Kombat wiki
The Shokan or sometimes the Shokans, are a mighty race of half-human, half-dragon warriors that live in the subterranean kingdom of Kuatan in Outworld…

The Shokan also own the Cobalt Mines, a huge mining facility and prison in Outworld.

Shokan
Mortal Kombat wiki
Illuminarti confirmed.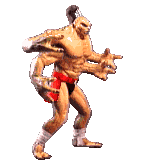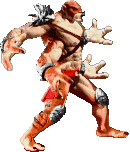 Looking through a Google image search, these guys are often depicted similarly to the imagined Denisovan reconstruction used for the intro of Andrew Collins' speech that inspired my crazy melonhead origin theory.
If you want to dig into this rabbit hole, here's some more reading material.
Enkidu (FF)
Goro (MK)
Edenians (MK)
Centaurians (MK) (probably a cultural stand-in for neanderthals)
Multi-Armed and Dangerous (TV Tropes)
Multi-armed Multitasking (TV Tropes)
Elfen Lied, regarding the indigo children's "vectors" (TV Tropes)
Spider Limbs (TV Tropes)
All of that is to say, when you see a person with more than two arms in fiction, you're probably looking at an artistic representation of a denisovan or melonhead.