Guest post from Fox on the Discord, with the intention of clarifying a simple but important idea:
Regarding the previous discussion about alt-vox, alt-lite, 1488ers, alt-petersons:

Common goals of 1488ers, WNs and vox:
– Keep a native supermajority in european countries, and a white super majority in countries like america, canada, australia.
– decisions should be made on a national level, not by international/global institutions
– Keep/install social norms according to which: men should strive towards being masculine, women should strive towards being feminine,
a traditional family structure is desired, sexual deviance are recognized as such and not glorified

Common ideals of 1488ers, WNs, vox and peterson:
– men should strive towards being masculine, women should strive towards being feminine, some sexual deviances are recognized as such and not glorified
– man needs meaning, something "higher" (the three parties don't agree on what this "something" is)

So the themes are:
– nationalism instead of globalism (both on an ethnic and on a political level)
– traditional family structure and polarity between man and women instead of modern perversions like feminism.
– some kind of "religion" instead of materialism

I think a principle everyone who wants to cooperate with others should internalize is: Do not criticize unless it is absolutely necessary. Most topics are not relevant for the common project, most points of contention are not important enough to risk alienating your companion. And regarding the important points on topics that are relevant – they aren't relevant in most situations, either. So only start to criticize when there is a very, very good reason to do so (which includes that alternatives have been exhausted). Once you do that, you'll be able to bond with other people (even over the internet), and out of these bonds, projects and friendships can arise. But this requires that you stop spreading and provoking negativity in your interactions with others.

If a companion is an asshole towards you, how should you respond? Don't respond. Take the damage his words produce, do not try to "defend" yourself or "fight back". Instead, gauge whether this is an exception and try to assess whether cooperating with this individual is still possible and worth the trouble. And if it is not, then just end the cooperation.
H/T TRS for comix: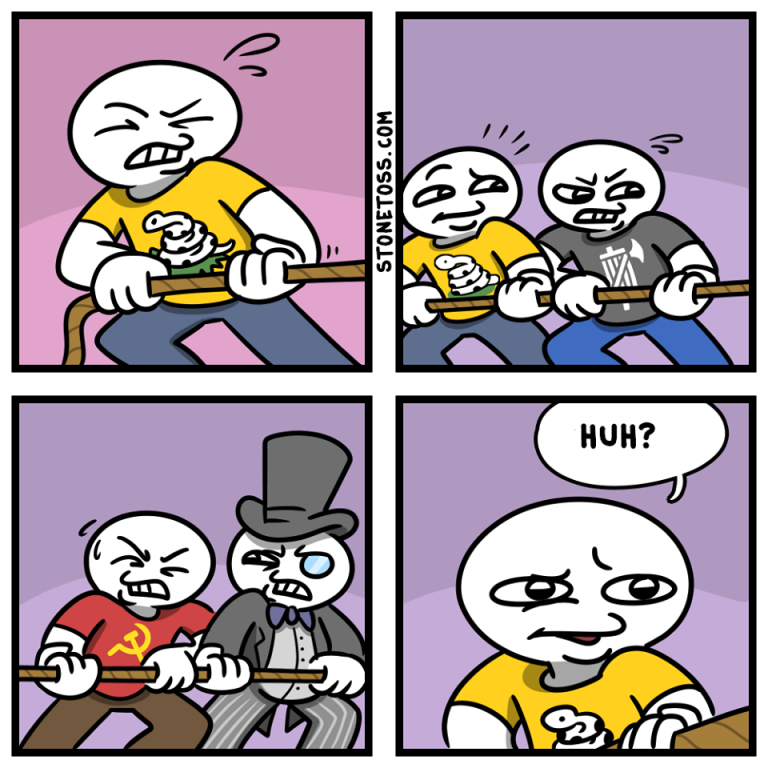 Criticism is useful and necessary in the context of an irresponsible party giving negative feedback to a responsible party, where the expectation is that both will benefit from the improvement. But it automatically designates the critic as dependent and therefore subordinate, like a woman, child, consumer, citizen, or prisoner. But the general rule of power, as expressed by British aristocrats, is "never complain, never explain." Criticism = complaining + explaining, whether constructive or otherwise.
"Never criticize except where necessary, and then always in private". This principle comes from at least four sources that I know of: leadership, statecraft, training, and seduction. I break this rule a lot but you'll note I'm also on the low end of aptitude for the skills of leadership, statecraft, training, and seduction (and would not have attempted them in a normal, less gay situation). See the Holm Center Training Manual chapter on Feedback for principles and concepts as applied to training, specifically. You can find it as a PDF online. For a deeper understanding, see Appraisal Theory. Or just watch the show Evangelion, which (on the psychological level) is about the interaction of Appraisal Theory and Freudian attachment theory.